Sweet Flowers Recipe Preparation | Rose Sweet Flower Recipe in Telugu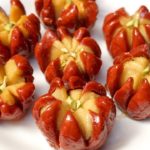 Sweet Flowers Recipe | Sweet Rose Flowers Recipe
Easy Rose Sweets Recipe in Telugu. How to Make Sweet Flowers Recipe.
Keyword:
Sweet Flowers Recipe
Ingredients
1

cup

All Purpose Flour

1

cup

Wheat Flour

1

pc

Beetroot

1/4

tsp

Baking Powder

Salt

1

cup

Jaggery

1

tsp

Cardamom Powder
Recipe Notes
SWEET FLOWERS
Lets see how to make sweet flowers
We won't be adding any artificial colours for this recipe
Beetroot colour will be used instead of artificial colours
Peel, chop and juice the beetroot by adding a little water
Strain this juice into a bowl
To a mixing bowl, add 1 cup all purpose flour and 1 cup wheat flour
Add 1/4 teaspoon baking powder, a pinch of salt and mix
Now add 2 teaspoons clarified butter and mix
Divide the flour into 2 parts
Put one of the parts aside for later
Then add the beetroot juice to one of the parts
Knead the flour into a dough by adding juice
Add some oil or clarified butter
Put the dough aside for a few minutes
Knead the other part of the flour we put aside
Don't make the dough too soft
Put it aside for 5 minutes
We have two colours ready now
Make small balls out of two dough mixtures
Take a beetroot ball and press it
Place a white ball in between and cover it with beetroot dough
Roll it into a soft ball again
Make cuts with a knife over it as shown
Cut the ball upto half of its deapth
Use a sharp knife to make the cuts easier
Heat oil for deep fry
Fry the prepared balls one by one on medium flame
We can see that the flowers open up nicely
Fry for 3-4 minutes
Move these flowers into a different plate
We have to add the flowers to sweet syrup now
Lets prepare jaggery syrup now
Sugar syrup also could be used instead
To a bowl, add 1 cup jaggery, 1/4 cup water and heat it
Stir till the jaggery melts and the mixture starts to simmer
Add 1 teaspoon cardamom powder, 1 tablespoon clarified butter(optional) and stir
Simmer till 1 thread consistency is obtained
Put the stove on low flame and add the prepared flowers
Stir once and remove them
Sweet flowers are ready to serve!
Subscribe to our YouTube Channel Hyderabadi Ruchulu for more latest and interesting cooking videos in Telugu
Also Check: