Semiya Boorelu Recipe | Vermicelli boorelu Preparation in Telugu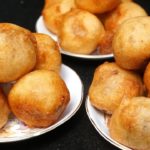 Semiya Boorelu Recipe in Telugu | Boorelu Recipe in Telugu
Preparation of Semiya Boorelu Recipe. Delicious Poornalu Recipe in Telugu
Course:
Festival Special Sweets, Snack
Keyword:
Semiya Boorelu Recipe
Ingredients
1

cup

Black Gram

1 1/2

cup

Rice

1/2

tsp

Salt

2

tsp

Sugar

1/2

tsp

Idly Rava

1

cup

Vermecelli 

3/4

cup

Sugar

Dry Fruits

Cardamom Powder
Recipe Notes
SEMIYA BOORELU
Lets see how to make vermecelli boorelu
To make vermecelli boorelu, we will have to prepare vermecelli sweet stuffing first
For 1 cup vermecelli, 3/4 cup sugar will be enough
Firstly, lets fry the dry fruits
Heat 3 teaspoons clarified butter (ghee) in pan
Add chopped cashewnuts and fry till they turn brown
Then add raisens along with any other dry fruits of your choice and fry
Fry vermacelli now in the same pan
Fry till it turns brown and move it into a different plate
For 1 cup vermecelli, boil 2 cups water
As water starts to boil, add fried vermecelli and cook
Now add 3/4 cup sugar and cook on low flame till the mixture becomes thick
Add 3 tablespoons grated coconut. This step is optional
Add a pinch of cardamom powder and mix
Vermecelli kesari is ready. Stuffing for vermecelli boorelu is ready now, lets prepare the coating now
For 1 cup black gram, we will need 1 1/2 cup rice
Here I'm using a wet grinder. If a normal mixer is being used, take only 1 1/4 cup rice
Wash and soak black gram, rice for 4-5 hours
They can be soaked overnight also
Firstly, grind the black gram, rice into a thick batter in the wet grinder
Then move this into a bowl
Add some water so that the batter becomes a bit loose
Take only batter as much as needed and store the rest in a fridge
Add 1/2 teaspoon salt, 2 teaspoons sugar, 1 1/2 tablespoon idly rava and mix
Make sure that the consistency of the batter is not too loose
Lets make the boorelu now
Spread some oil on your palm, take a small amount of the prepared semiya kesari and roll it into small balls
Heat oil for deep fry
Dip the vermecelli balls into prepared batter and drop these balls into oil
Flip after a couple of minutes
Flip and fry on medium flame till they turn golden brown
Serve hot!
Subscribe to our YouTube Channel Hyderabadi Ruchulu for more latest and interesting cooking videos in Telugu