Homemade Malai Cake Recipe Preparation in Telugu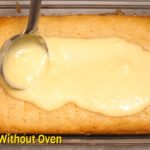 Course:
Christmas Special Cake, Festival Special Sweets, Sweets
Keyword:
Malai Cake Recipe
Ingredients
1

cup

All purpose Flour/ White Flour (Maida)



1

tbsp

Baking Powder



1/2

tbsp

Baking Soda



1/2

cup

Milk



1/2

cup

Powdered Sugar



3

tbsp

Oil



3

cups

Milk



2

tbsp

Custard Powder

1/4

cup

Sugar

Sugar
r


1/2

tbsp

cardomn

Dry Fruits

a handful finely chopped for garnishing


Recipe Notes
Method for Preparation.
Take a cup of white flour in a mixing bowl .
Add 1 teaspoon of baking powder and 1/2 teaspoon of baking soda to it and mix them all.
Will take another bowl with 1/2 cup of milk , add 1/2 cup of sugar mix it well.
Then add 3 tablespoons of oil to it.
Will add this mixture to white flour in the mixing bowl to make it into a batter.
Now will add 1/2 teaspoon of Cardamom powder to it
Mix it throughly till the batter looks layered and thick..
Will bake it in a thick based vessel with a stand in it.
will pre heat the vessel for 5 minutes on medium flame .
Take a heat proof mold , grease it with oil and pour the batter.
Will pour the batter till half in the greased bowl .
Now will place the greased mold in the pre heated vessel and bake it for 30 minutes.
Will bake the cake on low-medium flame only.
After 25 minutes will check it with a knife . just prick it with a knife.
If it comes out cleanly , it means the cake is baked.
So the cake is baked , let it cool.
Meanwhile will prepare Malai for the cake.
Take 3 cups of milk in a bowl / pan and boil it till the milk thickens to 2 cups.
Keep stirring the milk when boiling , often to avoid forming of cream/malai on it.
Will mix 2 tablespoons of custard powder in a bowl with some normal milk.
Now will add this mixture to the boiling milk , will 1/2 teaspoon of cardamom powder to it.
We can also use condensed milk instead of custard mixture.
Mix them all and put down the stove and let it cool.
Now to make the cake juicy with malai.
Will make some holes to the baked cake with fork .
Pour off the malai on the cake and let it be aside for some time.
Garnish it with some dry fruits , and have it.
So our easy and different , juicy and yummy dessert is ready.
Subscribe to our YouTube Channel Hyderabadi Ruchulu for more latest and interesting cooking videos in Telugu