Hyderabadi Lukhmi Keema Samosa Recipe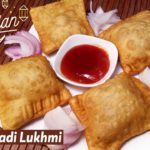 Lukhmi – Kheema Samosa Recipe | Hyderabadi Lukhmi Kheema Recipe
How to make Lukhmi Kheema Recipe at Home. Best Ramzan Festival Special Lukhmi- Kheema Samosa Recipe With Mutton
Keyword:
Lukhmi Kheema Samosa Recipe
Ingredients
200

grms

Minced Mutton

2

cups

All Purpose Flour

1

cup

Onions

2

pcs

Green Chillies

2

tsp

Salt

2

tsp

Chilli Powder

1

tsp

Coriander Seeds Powder

1

tsp

Ginger Garlic Paste

1/2

tsp

Cumin Seeds Powder

1/4

tsp

Turmeric Powder

1/4

tsp

Garam Masala
Recipe Notes
 Lukhmi – Kheema Samosa Recipe
Lukhmi (Samosa) is a typical mince savoury or starter of the cuisine of Hyderabad, Telangana, India. The snack's authentic preparation includes stuffing with mutton-mince kheema (ground meat). It is a non-vegetarian derivative of the samosa although, unlike the latter, Unlike the samosa, lukhmi is usually a flat square shaped flour parcel with a flaky and crisp upper crust and stuffed with mutton-based filling. 
The name Lukhmi originates from the word luqma, which means a small bite in Urdu. The best dish when served with a tea for a perfect social connect with friends and family.
1.To make Lukhmi, we need to prepare dough first. 
To a mixing bowl, add 2 cups flour, a pinch of salt, 3-4 teaspoons clarified butter (ghee) 

Mix them thorughly 

Add water

Knead it into dough (Like Chapathi Dough). 

Close lid 

Let it sit for 1/2 hour. 
In the mean time, prepare stuffing. 
Heat 1 tablespoon oil in pan. 

Add 1 cup onions and fry. 

Close lid 

As onions become transparent, add green chillies. 

Add 1/4 teaspoon turmeric powder, 1 teaspoon ginger garlic paste 

Mix. 

Fry for a minute 

Add cleaned minced mutton. 

Mix

Close lid

Cook on high flame for 10 minutes. 
Cook till all the water is seeping out of it boils away. 
Add 2 teaspoons chilli powder, 1 teaspoon coriander seeds powder, 1/2 teaspoon cumin seeds powder, 2 teaspoons salt or salt to taste, 1/4 teaspoon garam masala powder 

Mix. 

Add 1 cup water

Close lid

Cook for 10-15 minutes. 

Cook till all the water boils away. 

Sprinkle coriander leaves 

Cut off the stove. 
Let the stuffing cool down for some time.
Move it into a different bowl. 

Knead the prepared dough again. 

Take a part of the dough 

Press it into a chepathi. 

Don't make it too thin. 

Cut off the ends so that the shape becomes a square. 

Make another cut in the middle so that there are two long rectangles. 

The ends need to stick together. 

To make it easier to stick, spread water on the ends with a finger. 

Add a spoon of stuffing each on the rectangles. 

Lift one side of the rectangle carefully and put it on the other side over the stuffing. 

Press it with a finger and seal it so that the stuffing doesn't come out. 

Fork instead of finger could be used. 

Heat oil for deep fry. 

Fry prepared Lukhmi's one by one. 

Flip after it turns golden brown. 

Serve hot along with sliced onions and half cut lemon.
Subscribe to our YouTube Channel Hyderabadi Ruchulu for more latest and interesting cooking videos in Telugu