Potato Wedges Recipe in Microwave For Kids in Telugu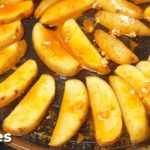 Potato Wedges Recipe in Telugu | Aloo Wedges Recipe in Telugu
Crispy and Tasty Aloo Snacks Recipe. Easy and Simple Crispy Aloo Baked Wedges.
Keyword:
Potato Wedges Recipe
Ingredients
3

pcs

potatoes

1

tbsp

Olive Oil

1/2

tsp

Salt

1/2

tsp

Chilli Powder

1/2

tsp

Chopped Garlic
Recipe Notes
Potato Wedges Recipe
A simple and easy Potato Wedges Recipe which is Microwaved.
Method for preparing it.
I have not peeled the potatoes because it gives more crispyness to the wedges.
1.Wash the potatoes under running water .Soak them for 5 minutes for easy cleaning.
2.Cut Potatoes without peeling them. Cut thin and long pieces.
3.Take water in 2 bowls and wash potatoes twice to take off the excess starch.
3.Place them in a plate to dry for a while.
4.Take a mixing bowl , add potatoes, add 1 tablespoon olive oil or any other oils of your choice.
5.Add 1/2 teaspoon of salt & 1/2 teaspoon red chili powder.
6. Then add 1/2 teaspoon finely chopped/minced garlic which adds flavor to the Wedges. Garlic powder can also be used.
7.Mix them all thoroughly.
8.Take a microwave plate/dish. Brush it with some oil and place the prepared potatoes.
9. Make sure the potatoes don't overlap.
10.Microwave it on 600 degrees, switch it off.
11. Turn over the pieces to cook the other side. Microwave it again for 5 to 6 minutes.
Crispy and crunchy mouth watering Potato Wedges are ready to serve!
Kids would relish it.
Preparation Time:- 10 minutes
Cooking Time :- 15 minutes
Total Time:- 25 minutes
Subscribe to our YouTube Channel Hyderabadi Ruchulu for more latest and interesting cooking videos in Telugu