Preparation of Cheese Dosa Recipe in Telugu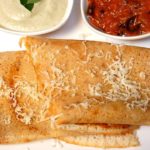 Cheese Dosa Recipe | Crispy Cheese Dosa Recipe
How to make Cheese Dosa Street Food Recipe. Simple Preaparation Methods of Cheese Dosa
Ingredients
1

cup

Black Gram

2

cups

Rice

1/4

cup

Bengal Gram

1/2

tsp

Fenugreek Seeds

1/4

cup

Flattened Rice

2-3

pcs

Dried Chillies

1

pc

Onions

5-6

pcs

Garlic Cloves

1/2

tsp

Cumin Seeds

5-10

grms

Tamarind

1/2

tsp

Salt

Butter or Oil

Cheese
Recipe Notes
CHEESE DOSA
Let's see how to make cheesa dosa today.
People who like cheese will definitely love this cheese dosa
Here I used normal dosa batter
I have already made a video on how to make dosa batter. Link will be in the description box for a more detailed recipe
Let's see it briefly here
To 1 cup black gram, add 1/4 cup beengal gram
Wash 2-3 times and soak it
For 1 cup black gram, take 2 cups rice
Wash 2-3 times, add 1/2 teaspoon fenugreek seeds and soak it for 5-6 hours
Grind the soaked lentils and gram into a soft batter
Let the batter ferment for 5-6 hours
To a bowl add required amount of batter, water if required, a pinch of salt and mix till dosa batter consistency is obtained
Let's prepare red chutney for the cheese dosa now
Heat 1 teaspoon oil in pan
Add 2-3 dried chilli pieces and fry
Add diced onions and fry for 1-2 minutes
Then add, 5-6 garlic cloves, 1/2 teaspoon cumin seeds, 5-10 grams and cut off the stove
To the mixture, add 1/2 teaspoon salt or salt to taste and mix
Move the mixture into a bowl and grind it into a soft paste
Red chutney for dosa is ready now
Let's make the dosa now
Heat a pan
Pour 1 1/2 spoon dosa batter on it and spread it on the pan
Add butter or oil on top
After some time, as the dosa starts to cook on top, put the stove on low flame and apply the prepared red chutney on it
The amount of chutney used is upto you
Let's add cheese now
Here I'm grating the cheese directly on top of the dosa
The amount of cheese used is also upto you
Grate the cheese on top and cook for a minute so that the cheese melts a little
Fold from one side and serve hot with your favorite chutney!
You could also cut the dosa in half after folding it and grate more cheese on top to make it more mouth watering!
Subscribe to our YouTube Channel Hyderabadi Ruchulu for more latest and interesting cooking videos in Telugu