Cabbage Sarva Pindi Recipe | Preparation of Thapala Chakka Recipe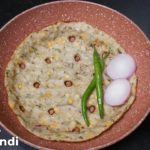 Sarava pindi Cabbage Recipe | Rice Flour Pancake Recipe
Steps to Prepare Sarava pindi Cabbage Recipe. Preparation of Thapala Chakka Recipe
Keyword:
Cabbage Saravapindi Recipe
Ingredients
2

cup

Rice Flour

1 1/2

cup

Cabbage

1

pc

Onions

2

tsp

Sesame Seeds

1

tsp

Coriander Seeds

1

tsp

Cumin Seeds

3

tsp

Bengal Gram

1 1/2

tsp

Green Chilli Paste

1/4

cup

Coriander Leaves
Recipe Notes
 Cabbage Sarva Pindi Roti
It's the most popular snack for all households in Telangana. Sarva Pindi is a savory pancake made in Telangana which are a circularly shaped item made of Rice flour, Cabbage and Peanuts. Cabbage is added to the dough for a more enhanced dish. It is also called Tappala Chekkalu or Tappala Attu in Andhra Pradesh. Its also referred to as Ginnappa in some part of Telanga
Some parts of Telangana Grated Bottle Gourd is also used as alternative to Grated Cabbage. This tastes so good like you can't stop eating only one piece. Sarvapindi is an amazing alternative to high calorific Naan breads and Parathas.
As a blogger, I would like to admit this is most sort of snack from my kids and spouse.
Lets see how to make Sarva Pindi with Cabbage
This is a healthy breakfast recipe for kids

Here I used 2 cups rice flour, 1 1/2 cup chopped cabbage and 1 chopped onion. Alternatively you may grate the Cabbage and Onion instead of chopping them.

To rice flour, add 1 1/2 cup chopped cabbage and mix

Add the chopped onion, 2 teaspoons sesame seeds, 1 teaspoon coarsely ground coriander seeds, 1 teaspoon cumin seeds, 3 tablespoons soaked bengal gram, 1 1/2 teaspoon green chilli-salt paste,

  1/4 cup chopped coriander leaves and mix. You may add 1/4 cup groundnuts for a better taste.

Knead the dough without adding any water

Moisture from the cabbage and onion will be enough to knead the rice flour, if not, sprinkle some water and knead it

Take a pan with thick base

Here I used a non-stick pan

Spread some oil on it
Now, take some dough and press it over the pan
Make holes as shown and pour some more oil in the holes

Place this pan on stove with medium flame

It will take around 7-8 minutes for the Sarva Pindi to cook

In the mean time, another one could be prepared in a different pan

We can see that the roti has cooked nicely

Cabbage Sarva Pindi is ready to serve!

Serve with coconut chutney or curd along with Sliced Onion / Raw Mirchi / Lemon
Subscribe to our YouTube Channel Hyderabadi Ruchulu for more latest and interesting cooking videos in Telugu