Aloo Chips Recipe Preparation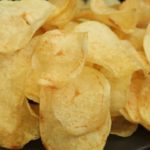 Aloo Chips Recipe | Potato Chips Recipe | Crispy Aloo Chips For Kids
How to make Crispy Potato Chips Recipe Make at Home.
Keyword:
Aloo chips Recipe
Recipe Notes
ALOO CHIPS
Let's see how to make potato chips today
Everybody makes potato chips, but try following this method next time. You won't need to search for any other process to make the potato chips
Let's see some tips and tricks to make the chips crispy and crunchy
Here I used 2 potatoes
Peel and wash the potatoes
Slice the potatoes as thin as possible
Move the potato slices into a bowl
Add water and wash the chips 2-3 times to remove the starch
Let it sit for 10-15 minutes
Use a strainer to drain off all the water and dry them using a kitchen towel
Heat oil for deep fry
Don't pre-heat the oil
Add the prepared potato slices
Turn on the stove and fry on high flame
The slices should be completely immersed in oil
Don't over-crowd the potato slices
As oil gets heated up and more bubbles start to form, turn down the stove to medium heat
Frying the chips on high flame might change the colour of potato slices, so, fry on low-medium flame
Don't stir as soon as you put the slices in oil, flip as they change colour lightly
Flip and fry till they turn crispy
Frying them for longer in oil will make the chips dark in colour, so remove them from oil as soon as they change colour slightly
Move the potato chips into a paper napkin plate
We can see that the chips have become crispy and crunchy
Add a bit of salt and toss it.
Chilli powder and chat masala also could be added
Adding salt is also optional, the chips taste good as it is.
Subscribe to our YouTube Channel Hyderabadi Ruchulu for more latest and interesting cooking videos in Telugu.
Also Check :