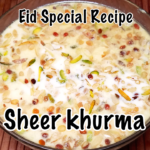 sheer khurma Recipe | Hyderabadi Special Sheer Khurma Recipe
Sheer Khurma Recipe is an Eid special sweet. Sheer Khurma literally means "milk with dates" in Urdu and is a festival vermicelli pudding prepared by Muslims all across the world.
Sheer khurma recipe for Ramadan – Sheer korma or shir qurma is one of the delicious hyderabadi dessert made during the holy month of Ramadan. In most Hyderabadi homes or Iftar gatherings one can often find it on the Iftar menu. It is very popular in the South Indian city hyderabad, as popular as the hyderabadi mutton biryani and HALEEM. Sheer korma makes a great food to include in your Ramadan / Iftar meal as it is a good source of nutrients. This can be made using only dates, without

Recipe Notes
INGREDIENTS
1. Thin Vermicelli - 400-500 Grams
2. Milk - 1 Litre
3. Dry Fruits
4. Muskmelon Seeds
5. Watermelon Seeds
6. Dry Dates
7. Cudpahnut
8. Pista
9. Almonds
10. Raisins
11. Cashewnuts
12. Sugar - 1/2 Cup
13. Clarified Butter (Ghee) - 3-4 Tablespoons
Ramzan is around the corner. Let's see how to prepare sheer kurma which is a ramzan special dish. We will get special vermicelli for making sheer kurma. 400-500 grams of this thin vermicelli will be sufficient for 1 litre milk. Dry fruits are main ingredients in sheer kurma. The more dry fruits we use, the tastier it will be. Any dry fruits of your choice could be used. Soak dry fruits for a minimum of 4-5 hours. They can be soaked overnight also, it will be easier to peel them. Chop all the dry fruits into thin slices. Remove the seeds from the dates and slice them. Chop all the dry fruits into thin slices. Fry all the dry fruits in clarified butter (ghee). Heat 2 tablespoons clarified butter (ghee) in pan. fry dry fruits and move them into a different plate. add the rest of the dry fruits and fry them. Dont burn the dry fruits, it will ruin the taste. Move them into a plate. To the same pan, add 2 tablespoons clarified butter (ghee) and heat it. Add thin vermecelli, fry and move it into a plate. Boil milk. mix and boil till the milk thickens. Boil till it changes colour slightly and becomes thick. Add 1/2 cup sugar. Add 1/2 of fried dry fruits now and rest later for garnishing. After 5 minutes, add fried vermecelli. Add 1/2 teaspoon cardamom powder and cut off the stove. Close lid and let it sit for 10 minutes. Open lid and move it into a serving bowl. Garnish with dry fruits. sheer khurma Recipe | Hyderabadi Special Sheer khurma Recipe
sheer khurma recipe, sheer korma recipe ... Sharing is Caring! ... sheer kurma is a rich dessert consisting of various dry fruits, ghee and milk. Sheer khurma recipe - Delicious Sheer korma is made during the month of ramadan, ... sheer korma recipe swasthis recipes. Share this post:.