Semiya Bobbatlu Recipe Preparation in Telugu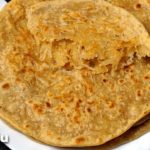 Semiya Bobbatlu Recipe | Vermicelli Bobbatlu Recipe in Telugu
Preparation of Semiya Bobbatlu Recipe in Telugu. Festival Special Bobbatlu Recipe
Course:
Festival Special Sweets, Snack
Keyword:
Semiya Bobbatlu Recipe
Ingredients
1

cup

Semiya/Vermicelli

3/4

cup

Sugar

1

cup

Wheat Flour

2

cups

Water

Salt

2

tbsp

Ghee

2

tbsp

Oil

5

pcs

Cashews

5

pcs

Almonds

2-3

Cardamom
Recipe Notes
Semiya Bobbatlu-Vermicelli Bobbatlu.
Let's try a new and different kind of bobbatlu for this festive season.
Bobbatlu is also called as Bakshalu, Polelu or even puran poli.
Vermicelli Bobbatlu would also taste yummy than the regular one which we prepare with dal.
Method for Preparing Vermicelli / Semiya bobbatlu.
1. Take a mixing bowl to knead the wheat flour.
2. Add a pinch of salt and mix the flour.
3. Mix 2 teaspoons of oil and mix it before we knead it into a dough.
4. Knead it adding water to the flour to make it into a soft dough.
5. Consistency of the dough should be softer than what we knead for regular roti or chapati.
6. Apply some oil to your hands,so that the dough would not stick to our hands.
7. After the soft dough is ready place it aside for say 1/2 hour.
8. Now will start with our stuffing part.
9. Heat a pan on the stove, add some ghee.
10. Spread it and add vermicelli and roast /fry it till golden brown.
11. After we finish roasting them put them in a plate.
12. Add 2 cups of water in the same pan, place a lid and bring it to a boil.
13. Water is boiling add vermicelli and cook it till water is lessened.
14. Put 3/4th cup sugar to the vermicelli.
15. Add more sugar if you want sweeter bobbatlu according to your taste.
16. Sugar starts melting, so cook the vermicelli till it is dry.
17. Cook it on medium low flame.
18. We can also add coconut powder or grated coconut, which is optional.
19. But coconut powder gives a delicious taste if added.
20. Now I would add coarsely ground cashews and almonds.
21. You can add any other dry fruits of your choice.
22. Mix some cardamom powder and mix it thoroughly.
23. Cardamoms adds flavors to the recipe.
24. After it is done, switch off the stove, let the mixture cool down.
25. Make small sized balls of vermicelli, keep them aside.
26. Now take the dough and make them in to lime sized balls.
27. Spread the dough balls or flatten them on a plastic sheet.
28. We can use oil covers or even flour covers.
29. Sheet which we use for patting should be oiled too.
30. After we spread the dough place the vermicelli ball on it.
31. Vermicelli stuffing should be completely covered.
32. You can see how I am covering it with the dough.
33. Excess dough can be taken out.
34. Now pat and flatten the stuffed dough like poori or roti.
35. Take a pan heat it, add some ghee and spread it.
36. Lets roast/ shallow fry the bobbattu.
37. Roast them on either sides till brown.
38. Replace ghee with oil if you wish to.
39. Soft, sweet and yummy vermicelli bobbatlu are ready.
Try this out this festive season.
A Delightful Delicacy.
Subscribe to our YouTube Channel Hyderabadi Ruchulu for more latest and interesting cooking videos in Telugu