Matar Paratha Recipe Preparation in Telugu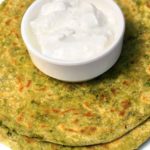 Matar Paratha | Peas Paratha
Check out the preparation Matar Ka Paratha Recipe in Telugu. It is vividly known as the Stuffed Green Peas Paratha
Keyword:
Green Peas Paratha, Matar Paratha, Peas Paratha
Ingredients
1

cup

Green Peas

2

cups

wheat flour

1/4

tbsp

ajowan

1/2

tbsp

turmeric powder

1

cup

butter

salt
Recipe Notes
MATAR PARATHA Prepration
Let's see how to make green peas paratha
Here I used 1 cup green peas for stuffing
These are fresh green peas
For chepathi, I used 2 cups wheat flour
Add 1/2 teaspoon salt, 1/2 teaspoon turmeric powder, 1/4 teaspoon ajowan (optional) and mix
Add 2 teaspoons oil and mix
Now add water and knead it into a soft dough
Spread some oil on top of it, close lid and put it aside for 30 minutes atleast
Heat 1 teaspoon oil in pan
Add 4-5 green chillies, 7-8 garlic cloves, 1/2 cup fenugreek leaves (optional), curry leaves, mint leaves and mix
Now add some green peas and stir for a couple of minutes
Add a little water and cook if required. Water isn't necessary if the green peas are fresh
Cook till the water boils away and cut off the stove
Let the stuffing cool down and add it to an mixie jar along with 1 teaspoon cumin seeds, 2 teaspoon coriander seeds, Coriander seeds powder also could be used here
Also add 1 teaspoon salt, coriander leaves and grind it
Don't add water at-all or else the stuffing will become too runny and paratha won't be proper
We can see that the stuffing is ready now
Coarsely grinding the mixture is enough
We can see that the stuffing if a bit firm and to work with
If you think the stuffing is too soft, heat 1 teaspoon oil in pan and fry the stuffing till the water boils away and proper consistency id obtained
Add a little aamchur powder and mix.
Lemon juice also could be used instead
Knead the dough again take a small amount of dough and roll it
Roll it in dry flour and press it into a small puri
Place the stuffing in the prepared puri and cover it
Remove the excess dough and roll it again
Press it again and roll it into a paratha
Lets cook the paratha now
Heat the pan
Here I added clarified butter (ghee), but regular oil also can be used
Spread ghee on the pan and add the paratha
Cook on low medium flame and cook till brown
Spread some more ghee and flip
Flip and cook
Follow Us on our YouTube Channel for more interesting updates about latest cooking videos in Telugu.
Also Check
Mixed Veg Paratha Recipe Preparation at Home