Mixed Veg Paratha Recipe | Mix Vegetable Paratha Easy Preparation at Home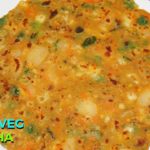 Mixed Veg Parotha Recipe | Veg Parotha Recipe
How to make Mixed Veg Parotha Recipe at Home
Course:
Breakfast, snacks
Keyword:
Mixed Veg Parotha
Recipe Notes
MIXED VEG PARATHA
Let's see how to make mixed veg paratha
To a bowl, add mashed boiled potatoes.
Add 1/2 cup grated carrot, 1/2 cup cabbage, 1/2 cup capsicum, 1/2 cup cauliflower, 1/2 cup coriander leaves, green chillies, 1 teaspoon chilli powder, 1 teaspoon salt, 1 teaspoon coriander seeds powder, 1 teaspoon cumin seeds powder and mix
Any other vegetables and spices of your chioce could be added
Add 1 1/2 teaspoon lemon juice and mix
Move the mixture into a plate
Add wheat flour slowly and knead it into a dough
Don't add water
Add 1-2 teaspoons oil and knead
Take a small amount of dough and roll it into a ball
Loose flour or oil could be used
Press it into a chepathi
Heat pan
Spread butter or clarified butter (ghee)
Put the paratha on the pan
Spread more butter or clarified butter (ghee) on top
Flip and cook till brown spots start to form.
Serve hot with favourite chutney or sauce.
Subscribe to our YouTube Channel Hyderabadi Ruchulu for more latest and interesting cooking videos in Telugu
Also Check :