In this article we will let you know the complete Pala Thalikalu recipe in Telugu. How to prepare the Andhra palathalikalu recipe with Jaggery at Home. Easy Pongal Special Prasadam Preparation video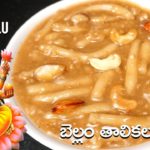 Bellam Thalikalu Recipe
Simple and Tasty Bellam Thalikalu Preparation at Home. Special Festival Prasadam Recipe Preparation in Telugu. Bellam Thalikalu is a Classic Sweet Recipe.
Course:
Festival Special Sweets, Sweets
Keyword:
Bellam Thalikalu Recipe
Ingredients
1

Cup

Rice Flour

1

Cup

Grated Jaggery

1/2

Cup

Grated Coconut

Dry Fruits

1

Pinch

Salt

2

tbsp

Cardamom Powder
Recipe Notes
Bellam Thalikalu Easy Preparation
Tasty and Simple Thalikalu with Jaggery Preparation at Home. Bellam Thalikalu is One of the Best Festival Prasadam Recipe in Telugu.
How to Make Special Prasadam Recipe
Preparation of Tasty Bellam Thalikalu
Today let's see how to make festival special prasadam recipe Bellam Thalikalu
To a bowl, add 1 1/2 cup water for 1 cup rice flour
Add a pinch of salt, 1/2 teaspoon clarified butter
Oil also could be used instead
Boil this water
Add 1 cup rice flour as the water starts to boil and stir
Here I used dry flour
Mix and cut off the stove
Close lid for 2-3 minutes
Knead it now
Move the mixture into a different bowl if the it is too hot
With the help of dry flour, make noodle like dough pieces
Sprinkle dry flour on them so that they don't stick to each other
You can also sprinkle dry flour on a plate and use it to make the rolls
Sprinkle dry flour on them so that they don't stick to each other
Thalikalu with Jaggery Preparation
Take a wide pan
Let's fry dry fruits in it first
Heat 1 tablespoon clarified butter in it
Fry the dry fruits in it
Any dry fruits of your choice could be used
They can be skipped also
Fry until they turn brown and move them into a different plate
Heat 4-5 cup water
Let it come to boil
Add 1 cup grated jaggery and let it melt
Sugar also could be added for more sweetness
Here I'm adding 2 tablespoon sugar
Now add the prepared rolls (thalikalu)
Add them little by little with 10-20 seconds gap to let the water get to boiling temperature again
Don't stir it too much
Now add 1/2 cup fresh grated coconut
Cook for 2 minutes
To a bowl of water, add 2 tablespoons rice flour and mix it into a thin paste
Add this paste to the dish
This will make the sweet dish nice and thick
Cook for 2 more minutes and add 1 teaspoon cardamom powder
Bellam thalikalu are ready to serve!
Subscribe to our YouTube Channel Hyderabadi Ruchulu for more latest and interesting cooking videos in Telugu