Tandoori Roti recipe Preparation at Home in telugu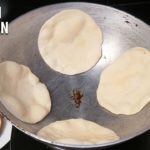 Tandoori Roti Recipe | Tandoori Roti With Wheat Flour
Preaparation of Tandoori Roti Recipe in Pan. Restaurants
Keyword:
Tandoori Roti Recipe
Ingredients
2

Cups

All Purpose Flour

1

Cup

Wheat Flour

1/2

tsp

Salt

1

tsp

Sugar

1/2

tsp

Baking Powder

2-3

tsp

Oil

1/2

cup

Curd
Recipe Notes
TANDOORI ROTI
Today, let's see how to make restaurant style tandoori roti at home easily!
These tandoori rotis are tasty with a nice smokey flavor
Usually tandoori rotis are made with all purpose flour
But, since all purpose flour is not that healthy, I used 2 cups all purpose flour and 1 cup wheat flour
To a mixing bowl, add 2 cups all purpose flour and 1 cup wheat flour
Add 1/2 teaspoon salt, 1 teaspoon sugar, 1/2 teaspoon baking powder and mix
Add 2-3 teaspoons oil, 1/2 cup curd and mix
Mix it with hand
Knead it by adding warm water slowly
We can see that the dough is sticking to the bowl and hands
Knead for 5-6 minutes till the dough becomes completely soft
Spread oil on top and secure the lid
Let it sit for 15-20 minutes
Knead it again and take a small amount of dough
Roll it and press it into thick chepati using dry flour without flipping the roti
Move it into a plate with same side facing up as before
Prepare 4-5 of them like this
Then take a thick pan
Heat the pan on high flame
Test the heat by sprinkling water on the pan
Now, spread water on the top side and stick them to the pan side by side
We can see that the bubbles have formed now
now, take the first roti put on the pan and cook it on direct flame
Adjust the flame accordingly and cook on all sides
Cook all the other rotis in the same way
Tandoori rotis are ready!
If a pan this big isn't available, then a normal pan can be used to make these tandoori rotis
Let's see how to make the roti
Spread water on the rolled side of the chepathi, and stick it on the hot pan
Don't use a non-stick pan since the rotis have to stick to the pan
Cook for a minute till bubbles are formed
Flip the pan such that the direct flame is touching the rotis
Adjust the flame accordingly and cook
Tandoori rotis are ready!
Spread butter or ghee and serve hot!
Serve hot with gravy curry.
It is important to knead the dough properly and to use a normal pan.
Subscribe to our YouTube Channel Hyderabadi Ruchulu for more latest and interesting cooking videos in Telugu