Stuffed Pizza Recipe in Telugu
Today's recipe is Stuffed Pizza .This is a very simple method to prepare the stuffed chicken pizza and it is healthy too.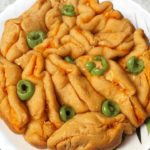 Stuffed Pizza Recipe Preparation in Telugu
Let us Know about the preparation of Stuffed Pizza Recipe in Telugu
Keyword:
chicken stuffed pizza, stuffed pizza
Ingredients
200

gms

Boneless Chicken

1

pcs

Onion

finely chopped

1

pcs

Green Chili

finely chopped

1

pcs

Capsicum

finely chopped

1

tbsp

Chili Powder

salt

as per need

1/2

tbsp

Coriander Powder

1/2

tbsp

Ginger Garlic Paste

1

tbsp

Vinegar

1

tbsp

Soya Sauce

1

tbsp

Tomato Sauce

1

tbsp

Spring Onions

1

tbsp

Carrot

grated

Cheese

as needed

1

cup

Wheat Flour

1

tbsp

sugar

1/4

tbsp

baking soda

1/2

tbsp

baking powder

1/2

tbsp

curd

4

tbsp

oil
Recipe Notes
Chicken Stuffed Pizza Method of Preparation:
Take a mixing bowl knead the wheat flour with 1/2 teaspoon of salt .
Then add 1 teaspoon of sugar , 1/4 teaspoon of baking soda and 1/2 teaspoon of Baking powder.
Mix them all and knead it with curd.
Add some oil to avoid stickiness ,need it continously for 15 to 20 minutes and place it aside for 15 to 20 minutes.
Now take a pan add 2 teaspoons of oil and heat , add the marinated chicken to it.
Cook it for 5 minutes on High flame with a lid.
Cook it till the chicken is cooked thoroughly without any water left.
Now will add some finely chopped spring onions.
Coriander leaves can also be used .
Put down the stove now.
Then will take a thick based vessel/pan add 1/4 kg of salt and heat it for 10 minutes.
Grease the baking tray with butter .
Once again mix the dough and make it into 2 equal portions.
Take 1 portion of the soft dough roll it into a thick roti , for the pizza base.
will mold them into small pooris with a small plate or round mold .
Then will grease the small pooris with Pizza Sauce or with Chili Sauce.
Add the chicken stuffing on it with some grated carrot and grated Cheese on it.
Now fold the pooris from the other side tightly and place them all on the baking tray.
Place them with some gaps in between as the become fluffy when baked .
Will brush them all with some butter on it and also sprinkle some Oregano or Chili flakes.
We can top it with our choice of fruit or veggies , I am topping it with Olives .
Now will Place a stand on the pre heated salt vessel/pan, then place the baking tray.
Bake it for 15 to 20 Minutes on medium flame with a lid.
After 15 to 20 Minutes will just check if it is baked , put off the stove .
Let them cool for a while , take them all from the tray .
Take them in a plate , stuffed pizza's are ready.
Simple and healthy recipe , very easy to prepare .
you all would throughly enjoy it , just try it once.