Prawns Curry With Coconut Milk Preparation in Telugu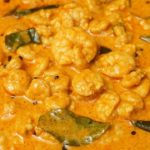 Prawns Curry Recipe With Coconut Milk | Kerala Style Prawns Curry Recipe
How to make Spicy Kobbari Paalu Prawns Curry Recipe Make at Home
Keyword:
PrawnS Curry Recipe With Coconut Milk
Ingredients
300

Grams

Prawns

10

Grams

Tamarind

Fresh Coconut / Coconut milk

1

tsp

Chilli Powder

1

tsp

Salt

1

tsp

Cumin Seeds

2

tsp

Coriander Seeds

1/2

tsp

Turmeric Powder

1 1/2

tsp

Ginger Garlic Paste

1/2

cup

Curry Leaves

Whole Garam Masala
Recipe Notes
PRAWNS CURRY WITH COCONUT MILK
Today let's see how to make Kerala style prawns curry
Prawns curry with coconut milk
Here I took 300 grams prawns
Soak 10 grams tamarind in water
Mango or tomato instead of tamarind could be used
We will need coconut milk for this curry
To make coconut milk, first grind a fresh coconut in a mixie jar
Then add water and grind it again
Squeeze this ground coconut to get coconut milk
Firstly, we have to marinate the cleaned prawns
Here we have to marinate the prawns twice
To prawns, add 1 teaspoon salt, 1 1/2 teaspoon ginger garlic paste, 1/2 cup curry leaves and mix
Then add the juice of soaked tamarind
We don't need a lot of tamarind juice here
Marinate the prawns for 10-15 minute
Let's prepare masala for second marination
To a mixie jar, add 1 teaspoon cumin seeds, 2 teaspoons coriander seeds, 2-3 cinnamon stick pieces, 3 cardamom, 4 cloves, 1/4 teaspoon pepper and grind it into a powder
To a bowl, add 1 1/2 teaspoon chilli powder, 1/2 teaspoon turmeric powder, 1 1/2 teaspoon prepared masala, 1 tablespoon oil and mix
Add this prepared masala to marinated prawns and mix
Let it sit for 15 minutes
To a pan, add the marinated prawns
Then add some water
It is to required to add oil
Turn on the stove and cook for 7-8 minutes
Close lid and cook
We can see that the gravy has thickened
Add coconut milk and cook for 2-3 minutes
This gravy curry is very tasty and is a great combo for chepathis or biryani
The gravy has thickened now. Cut off the stove after required consistency is obtained
Let's prepare tempering for the curry now
Simple tempering with mustard seeds will be enough
Here I used coconut oil for tempering. Any oil of choice could be used here
Heat oil and add 1/2 teaspoon oil
Fry and cut off the stove
Add this tempering to the prepared curry and immediately close the lid
Open lid right before serving and give it a stir
Serve hot with rice or roti!
Subscribe to our YouTube Channel Hyderabadi Ruchulu for more latest and interesting cooking videos in Telugu
Also Check :
Prawns Fry Recipe Easy Preparation