Homemade Pizza without Cheese in Telugu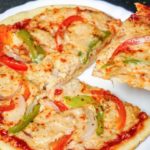 Pizza Recipe With Out Cheese | Chessless Pizza Recipe | Veg Pizza Recipe
Preparation of Pizza Recipe With Out Cheese .Yummy Pizza Recipe Making at Home without oven. Today's recipe is Pizza without oven cheese or yeast, will bake it with things available at home .
Ingredients
1

cup

White Flour (All Purpose Flour)                    

1/2

tsp

Baking Powder   

1/4

tsp

Baking Soda   

1/2

tsp

Salt

1/2

tsp

Sugar   

1

tbsp

oil

1

cup

Curd

Water
Recipe Notes
Cheeseless Pizza Preparation at Home
Will take a cup of white flour in a bowl for Pizza base, will add ½ teaspoon of baking powder to it.

Then will add 1/4 teaspoon of Baking soda to the floor.

Now will add ½ teaspoon of salt and ½ teaspoon of sugar to the flour.

Then will add 1 Tablespoon of oil to the flour and mix them all.

Will knead it into a dough by adding  1/2 cup of curd.

We can add some water if required.

The dough should be softer than we knead for roti's.

Will keep the dough aside for ½ hours' time.

Meanwhile will prepare

Red sauce

required for pizza.

Will take 3 tablespoons of Tomato ketchup or sauce in a bowl.

Then will add some finely chopped garlic and chilli flakes to the ketchup and mix it.

So our Red sauce is ready this can be replaced by pizza sauce if you have.

Now will prepare white sauce for pizza

.

Take a tablespoon of butter in pan and let it melt.

Now will add a tablespoon of white flour to it and mix thoroughly without lumps.

Roast it for a minute, then will add 2 to 3 finely chopped garlic to it.

Then will add ¼ cup of milk stirring it constantly and cook it for 5 to 6 minutes.

Now will add ¼ teaspoon of pepper powder and ¼ teapoon of salt, and our white sauce is ready.

So our creamy white sauce is ready .

Will bake our pizza base now.

Take a portion or required amount of dough and powder it with the flour on either sides.

Now will roll it into a thick spread, take a plate grease it with butter and pale the rolled dough and spread it a little more.

Will prick the pizza base with a fork to avoid puffing of the base.

Now add some red sauce and spread it all over the base.

Then will add white sauce and spread it along.

And we can add the toppings of our choice on it.

Here I am topping it with Chopped Capsicums, Onions and Tomatoes.

We can even top it with some Olives and sweet corn.

On the toppings will spread some white sauce and chili flakes.

We can even use some Oregano, Peppers and any other spices of our choice.

Will pre heat a thick based vessel on medium flame for 5 minutes prior we bake.

Now will place the pizza base plate on the stand in a pre-heated vessel and bake it

Will bake it for 15 to 2o minutes on low medium flame.

Then will check if it is baked after 15 minutes, we can see the edges have become brown and thick.

We see it is cooked and baked well , so we can serve it hot in a plate
So our Pizza without cheese is ready, it tastes creamy and yummy.
Subscribe to our YouTube Channel Hyderabadi Ruchulu for more latest and interesting cooking videos in Telugu