In this article, We are giving you the complete details of Paneer Bhurji Preparation at home in Telugu. This Instant Snack Recipe would surely make your family delighted.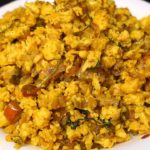 Paneer Bhurji Preparation in Telugu
Paneer Bhurji Recipe Preparation in Telugu at Home. We have given the detailed explanation of Paneer Bhurji in this article
Ingredients
200

grams

Paneer

2

pcs

Onions

3-4

pcs

Green Chillies

1/2

tsp

Cumin seeds

1

tsp

Salt

1/2

tsp

Turmeric Powder

1/2

tsp

Ginger Garlic Paste

1/2

tsp

Coriander Seeds Powder

1/4

tsp

Cumin Seeds Powder

1/4

tsp

Pepper Powder
Recipe Notes
PANEER BURJI
Let's see how to make an easy paneer dish today for paneer lovers
Here I grated 200 grams of paneer
The paneer here could be mashed also
Finely chop 2 onions along with 3-4 green chillies
Heat 1 1/2 tablespoon oil in pan
Add 1/2 teaspoon cumin seeds and fry
Add chopped onions, 1 teaspoon salt and mix
Close lid and fry till onions turn brown
Add chopped green chillies and fry
Then add 1/2 teaspoon turmeric powder, 1/2 teaspoon ginger garlic paste and fry for a minute
Add 1/2 teaspoon coriander seeds powder, 1/4 teaspoon cumin seeds powder and mix
Add 1/4 teaspoon pepper powder and mix
Then add grated paneer and mix
Close lid and cook for 2-3 minutes
Sprinkle coriander leaves and serve hot!
Subscribe to our YouTube Channel Hyderabadi Ruchulu for more latest and interesting cooking videos in Telugu