Mokka Jonna Gatka Recipe Preparation in Telugu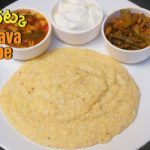 Mokka Jonna Gatka Recipe
Mokka Jonna Gatka is One of the Healthiest Recipes. Tasty Jonna Gatka Preparation at Home. Gatka is a Telangana Special Dish.
Keyword:
Mokka Jonna Gatka
Ingredients
1

cup

Corn Rava

4

cups

Water

1/2

tsp

Salt
Recipe Notes
Mokka Jonna Gatka Recipe Preparation
Mokka Jonna Gatka Recipe is a Telangana Special Dish. Healthy and Tasty Gatka Recipe Preparation at Home. Lets see how to make Gatka in Telugu.
How to Make Healthy Mokka Jonna Gatka Recipe
Preparation of Telangana Special Jonna Gatka in Telugu
Firstly, we will need corn rava.
We can get it directly in Stores or it can be make at home also.
Here we took 1 cup of Corn Rava.
Sprinkle some water in it and mix.
Don't add too much of water, just Sprinkle the water so as to make the rava wet.
Mix and put it a side.
For 1 cup of rava, add 4 cups water to a bowl.
Add 1/2 teaspoon of Salt, close lid.
Let the Water Boil.
As water Starts to boil, add some water again.
Add the Corn Rava.
Mix immediately so that no lumps are formed.
Cook on medium flame.
We can see that consistency of the mixture has become nice and thick.
Now, put the Stove on low flame till the rava cooks completely.
Stir and Cook.
Cut off the Stove when the Consistency is little loose itself.
Since the consistency will become thick after it cools down.
Gatka is Ready to Serve.
This gatka can be served with a curry or curd or even a pickle.
Subscribe to our YouTube Channel Hyderabadi Ruchulu for more latest and interesting cooking videos in Telugu
Also Check: