HomeMade Kakarakaya Kaaram Podi Recipe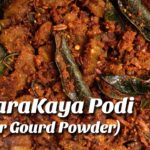 Diabetes special recipe kakarakaya podi karam
In this article we gonna show you the step by step process of preparing the diabetes special recipe kakarakaya podi karam in telugu
Keyword:
bitter gourd masala, diabetes special recipe kakarakaya podi karam, Kakarakaya Karam Podi Recipe
Ingredients
1/2

kgs

Bitter gourd

7-8

pcs

Dried Chillies

3

tbsp

Black Gram

3

tbsp

Bengal Gram

3

tbsp

Coriander Seeds

20

pcs

Garlic Cloves

1/2

tbsp

Cumin Seeds

20

gms

Tamarind

1

tbsp

Turmeric Powder

2

tbsp

Salt
Recipe Notes
Today, lets see how to make bittergourd masala powder
This powder can be used of upto 15 days
Also, it can be made with minimal ingredients and effort
Peel the bittergourds and chop them
Heat 1 teaspoon oil in pan
Add 3 tablespoons black gram, 3 tablespoons bengal gram, 3 tablespoon coriander seeds and fry till they they change colour
Move them into a different bowl
To the same pan, add 7-8 dried chillies and fry till they change colour
Fry on medium flame
Move them into a different plate
Heat 3-4 tablespoons oil in pan
Add the chopped bittergourds and fry
Fry till the bittergourds turn brown
Add 1/2 teaspoon salt and fry on medium flame
Fry till brown
In the meantime, lets powder the fried lentils
To a mixie jar, add the fried lentils, 20 garlic cloves, 1 1/2 teaspoon cumin seeds, 1/2 teaspoon salt, fried dried chillies, 20 grams tamarind and powder it
Here turmeric powder also could be added
We can see trhat the bittergourd pieces have turned brown
Move them into a mixing bowl
Add turmeric powder, prepared powder and mix
Serve with rice!
Store it in an air tight container. It will stay fresh for upto 15 days
We Hope You Have Loved the above article, For More Interesting Telugu Cooking Recipes Subscribe to our Youtube channel Hyderabadiruchulu.