Instant Nimmakaya Karam Recipe in Telugu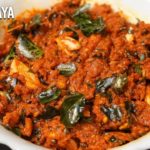 Instant Nimmakaya Karam Recipe | Home Made Instant Pickles
How to make Nimmakaya Karam Recipe in Telugu. Home Made Pickles
Course:
Breakfast Pickle, Side Dish
Keyword:
Instant Nimmakaya Karam
Ingredients
2-3

tbsp

Lemon Juice

2

tsp

Chilli Powder

1 1/2

tsp

Salt

1

tsp

Coriander Seeds Powder

1

tsp

Sesame Seeds Powder

1/4

tsp

Cumin-Fenugreek Seeds Powder

4-5

pcs

Garlic Cloves

1/2

tsp

Mustard Seeds

1/2

tsp

Cumin Seeds

1/2

cup

Curry Leaves

1/2

tsp

Turmeric Powder
Recipe Notes
INSTANT NIMMAKAYA KARAM
Let's see how to make instant lemon pickle
This pickle will be as tasty as a new mango pickle
Here I took 2-3 tablespoons lemon juice
To this juice, add 2 teaspoons chilli powder, 1 1/2 teaspoon salt or salt to taste, 1 teaspoon coriander seeds powder, 1 teaspoon sesame seeds powder, 1/4 teaspoon cumin-fenugreek seeds powder and mix
This pickle can be ,made using only salt and chilli powder. Rest of them are for our taste only
Let's prepare tempering now
Firstly, coarsely grind 4-5 garlic cloves
Heat 2 tablespoons oil in pan
Add 1/2 teaspoon mustard seeds, 1/2 teaspoon cumin seeds and fry
Fry for a minute and add coarsely ground garlic cloves
Then add 1/2 cup curry leaves and fry
Now add 1/2 teaspoon turmeric powder and mix
Cut off the stove
Add this tempering to the lemon juice mixture
Instant lemon juice pickle is ready!
This pickle can be preserved in fridge for upto 1 month.
Subscribe to our YouTube Channel Hyderabadi Ruchulu for more latest and interesting cooking videos in Telugu
Also Check: