Restaurant Style Masala Dosa Recipe in Telugu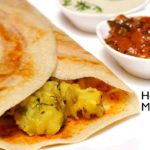 Hotel Style Masala Doda Recipe | Masala Dosa Recipe
How to Prepare Hotel Style Masala Dosa Recipe. Crispy Masala Dosa Recipe make at Home
Keyword:
Hotel Style Masala Dosa Recipe
Ingredients
Potatoes

1

tsp

Bengal Gram

1

tsp

Black Gram

1/2

tsp

Mustard Seeds

1/2

tsp

Cumin Seeds

Onions

3-4

pcs

Green Chillies

Curry Leaves

1/2

tsp

Turmeric Powder

1/2

tsp

Ginger Garlic Paste

1

tsp

Salt

Coriander Leaves
Recipe Notes
MASALA DOSA
We generally have masala dosas in hotels. No matter how much ever we try, we can't get the same taste of the dosa at home
Let's see some tips to make masala dosa at home that tastes just like the ones we eat in hotels
We need normal dosa batter to make this masala dosa
Also, we will need red chutney to spread on the dosa along with aloo curry for stuffing
Let's prepare the red chutney first
To a mixie jar, add roasted bengal gram along with dried chillies, garlic cloves, 1 teaspoon cumin seeds, washed tamarind and water
Grind it into a soft paste
Red chutney is ready now
Let's prepare the stuffing now
Heat 2 teaspoons oil in pan
Add 1 teaspoon bengal gram, 1 teaspoon black gram and fry
As the grams start to change colour, add 1/2 teaspoon mustard seeds, 1/2 teaspoon cumin seeds and fry
Fry for some time and add diced onions
Close lid and fry till the onions turn transparent
Add 3-4 green chillies and mix
Fry for a minute and add curry leaves
Add 1/2 teaspoon turmeric powder, 1/2 teaspoon ginger garlic paste and mix
Add boiled diced potatoes and mix
Also add 1 teaspoon salt or salt to taste and mix
Fry for a minute and add 1/4 glass water
Close lid and cook for 3-4 minutes
Sprinkle coriander leaves and cut off the stove
Stuffing is also ready now
Let's make the dosa now
I've already made a video on how to make dosa batter. Link will be in the description box for reference
Heat pan
Spread 2 spoons batter over it
Sprinkle oil or clarified butter (ghee) on top
Cook on high flame for a minute and turn down the flame
Spread the prepared red chutney over the dosa
Place the prepared curry over the dosa and then cover it by folding it on both sides
Serve with favorite chutney or sambar!
Subscribe to our YouTube Channel Hyderabadi Ruchulu for more latest and interesting cooking videos in Telugu