Kids Special Alphabets Dosa Recipe Preparation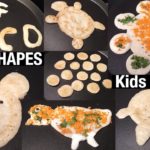 Dosa Shapes | Kids Breakfast Recipe | Kids Special Recipe
Learn How To Make Dosa Shapes With Dosa batter.
Ingredients
1

cup

Black Gram

2

cup

Rice

1/4

cup

Bengal Gram

1/2

tsp

Fenugreek Seeds

1/4

cup

Flattened Rice
Recipe Notes
DOSA SHAPES
Today let's see how to make dosas differently everyday
Here I used regular dosa batter for this recipe
First lets see how to make coin dosa
Heat pan
Use a small spoon to pour small dosas on the pan
Next, we will see how to make flower dosa
Serve this dosa to older kids who can eat grated carrots and coriander leaves
First, pour batter in the shape of a circle
Then, pour smaller circles around it
Sprinkle some grated carrot on top along with some coriander leaves
Any other grated veggies like grated beetroot also could be used here
Add some ghee or oil on top and close lid
Cook for 2 minutes and serve hot!
Lets see how to make star dosa
Heat pan
Pour dosa batter on it
Here I'm pouring dosa batter and spreading it with a spoon
Add oil or ghee and cook
Serve with favourite chutney!
Lets see how to make mickey mouse dosa
First, pour batter in the shape of a circle
Then, pour two smaller circles
Put two eyes on it with pepper and make a smiley with any chutney
Mickey mouse dosa is ready!
Lets see how to make kitty dosa
First, pour dosa batter in the shape of an oval
Make a circle for a heat and pour a long tail
Make two ears and carefully flip it
Now put some eyes with mustard seeds and serve hot!
Lets see how to make teddy bear dosa now
Lets see how to make tortise dosa
Now lets see how to make elephant dosa
Lets see how to make sun dosa
Lets see how to make moon dosa
Now lets see how to make bird dosa
We can make the dosa in alphabet shapes also
Any other shapes also could be made like fish dosa, boat dosa, etc
Subscribe to our YouTube Channel Hyderabadi Ruchulu for more latest and interesting cooking videos in Telugu
Also Check :
Potato Wedges Recipe Preparation