Crispy Spiral Potato Fry | Potato Snacks | Quick Evening Snacks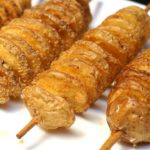 Spring Potato Fry | Tornado Potato Fry | Spiral Potato Fry
How to make Crispy Spiral Potato Fry. How to Prepare Spring Potatoes
Keyword:
Spiral Potato Fry
Ingredients
2

pcs

Potatoes

2

tbsp

Corn Flour

1/2

cup

water

1/4

tsp

Pepper Powder

1/2

tsp

Salt

Bread Crumbs

1/2

Chilli Powder

oil
Recipe Notes
SPIRAL POTATO FRY
Let's see how to make spiral potato fry
This potato stick is also called as tornado
We usually see these in exhibitions and fairs
Kids love them, so let's see how to make these potato tornados at home
We will need long chopsticks to make this fry
Also, longer potatoes will look nice
Peeling the potatoes here is optional
They taste good with or with out the peel
Wash the potatoes thoroughly
Insert the chopsticks into the potatoes
Take a sharp knife, rotate the potato and spirally cut the potato like a spring
You'll get used to it after cutting one potato completely
Cut it completely and spread the potato along the chopstick
This could be deep fried directly and sprinkled with salt and pepper or else it could be deep fried after coating it with bread crumbs
They could be baked in an oven also
Let's prepare the coating material for the spiral potatoes
Take 2 tablespoons corn flour in a bowl
Here only corn flour could be used or 1 tablespoon corn flour with 1 tablespoon all purpose flour could be used
Add 1/2 cup water and mix
Add 1/4 teaspoon pepper powder, 1/4 teaspoon salt and mix
To a bowl, add bread crumbs along with 1/4 teaspoon salt and 1/2 teaspoon chilli powder
If more spicyness is desired, pepper powder also could be added here.
Mix and put it aside
It's time to coat the spiral potatoes
First, coat the spirals with corn flour mixture and then sprinkle bread curmbs over it
We need to deep fry them now
Heat a pan
Wider the pan, easier it will be to fry the potatoes
Heat oil for deep fry
Place the prepared potato spirals in the oil one by one and fry on low flame
Flip and fry on all sides till they turn light brown in colour
Any other spices could be sprinkled here
Serve hot!
Now, we don't need to buy the unhygenic food from outside for our kids. We can make the potato tornados at home itself.