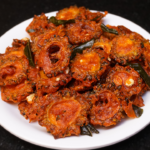 How to make Bitter Gourd Chips at Home
In this video Ms. Indira will teach you how to cook quick easily a Bitter Gourd Chips in Telugu | How to make Bitter Gourd Chips at Home in Telugu by Hyderabadi ruchulu
Ingredients
1/4

Kg

Bitter Gourd

2

Tablespoons

Rice Flour

2

Tablespoons

Corn Flour

1/2

Cup

Curry Leaves

1

Teaspoon

Chilli Powder

1

Teaspoon

Salt

1/2

Teaspoon

Cumin Seeds Powder

1/2

Teaspoon

Turmeric Powder

1

Teaspoon

Ginger Garlic Paste

1

Tablespoon

Lemon Juice
Instructions
Bitter Gourd Chips Recipe- Learn how to make Bitter Gourd Chips step by step on Hyderabadi Ruchulu.
Recipe Notes
Who doesn't like chips ? I'm sure there would not be a single hand out there that would have raised ? Today's post is for all chips lovers ,here comes Hot chips style "Bitter gourd Chips" recreated in my kitchen.The spicy crispies with a very very mild bitterness in it makes a great teatime snack.
Instructuions
Cut the bitter gourd into circular pieces
We donít need to remove the seeds or peel it
Mix 1/2 teaspoon salt in a bowl of water
Put the bitter gourd pieces in this salt water
and let it sit for 1/2 hour
Move them into a plate
To a bowl, add 2 tablespoons corn flour, 2 tablespoons rice flour,
1/2 teaspoon turmeric powder, 1 teaspoon chilli powder,
1 teaspoon ginger garlic paste, 1/2 teaspoon cumin seeds powder,
1 tablespoon lemon juice and mix
Keep adding water in small quantities and mix it into a thick paste
Add water at a time might make the paste too runny
Add 1/2 teaspoon salt or salt to taste and mix
Here I'm adding a pinch of food colour for a bit of colour
This step is optional
Add 1/2 cup curry leaves and soaked bitter gourd pieces and mix
Let it sit for 10 minutes
Heat oil in the mean time
Heat oil for deep fry in pan
Fry the bitter gourd pieces one by one on medium flame
Flip after 3-4 minutes
Flip and fry it the pieces become crispy and change colour
Bitter gourd chips are ready to serve
Store it in an air tight container after it cools down
Make sure you slice the bitter gourd evenly so that while frying it gets cooked evenly.

Instead of water , you can add 1 -2 tsp of hot oil to the spice powder +  bitter gourd mixture. This will make them more crispy. Also the surface of chips will not look dry.

Depending on the size of your kadai add the bitter gourd pcs for deep frying. Do not over clump. That will reduce the temperature of oil n they will absorb more oil

When u r adding bitter gourd slice, flame should be medium high.Later reduce to medium low.While frying, fry until sshhh.. sound stops.This is very important to get crispy gourds.

If you want simple chips, just mix salt and chilli powder to karela and deep fry. or you want a south Indian taste omit all spice powder, just add sambar powder n a pinch of hing.