Baby Corn Pakoda Recipe | Mokkajonna Pakoda Recipe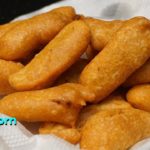 Baby Corn Pakoda Recipe | Mokkajonna Pakoda Recipe
Learn How to make Baby Corn Pakoda Recipe
Keyword:
Baby Corn Pakoda Recipe
Ingredients
1

cup

 Bengal Gram Flour

3

tbsp

Rice Flour

1

tsp

Chilli Powder

3/4

tsp

Salt

1/2

tsp

Cumin Seeds Powder

1/2

tsp

Ginger Garlic Paste

Ajowan

Soda

200

grms

Baby Corn
Recipe Notes
BABY CORN PAKODA
Let's see how to make baby corn pakoda today
It takes very less tome to make these pakodas
Firstly, we have to prepare batter
To a mixing bowl, add 1 cup bengal gram flour and 3 tablespoons rice flour.
Rice flour makes the pakodas crispy
Also add 1 teaspoon chilli powder, 3/4 teaspoon salt or salt to taste, 1/2 teaspoon cumin seeds powder, 1/2 teaspoon ginger garlic paste and mix
Add coarsely ground ajowan
Ajowan adds to the flavor of the pakoda. Also, adding ajowan to oily foods is beneficial to health as well as digestion
Add a pinch of soda and mix
Add water slowly and mix it into a smooth batter
Let it sit for 10 minutes
Let's prepare baby corn in the mean time
Wash and slice the baby corn into 8 long pieces
Check the consistancy of the batter by dipping a baby corn piece in it.
More water could be added here if necessary
Dip all the baby corn pieces in the batter
Let's deep fry the pieces now
Heat oil for deep fry
Add the prepared baby corn pieces one by one
Fry on medium flame
Flip after a couple of minutes
Flip and fry till the baby corn pieces turn golden brown
Move the fried pieces into a paper napkin plate
Serve hot with favorite chutney or sauce!
Subscribe to our YouTube Channel Hyderabadi Ruchulu for more latest and interesting cooking videos in Telugu
Also Watch :